Without your students here, it's been a couple of slow news weeks, Deac families.  We are counting down to move-in for new freshmen: less than 30 days now!  So as we inch ever closer to the start of school, the Daily Deac will look at some Wake Forest institutions.  Today's feature is The Pit.
The Pit is the affectionate nickname for our main on-campus cafeteria.  The name was derived from the location within Reynolda Hall (the lowest level) as opposed to the quality of its food (although I can testify to the fact that the quality of the food these days is EXPONENTIALLY better than it was during my student days in the late 80s-early 90s, when lunch every Tuesday-Thursday seemed to feature the same bland casserole of turkey, rice, cream of mushroom soup, and paprika).
While my friends in Campus Dining would want me to call it the Fresh Food Company – so named because of fresh ingredients, prepared right before you at many of the stations – it will always be The Pit to me.
Because our students eat in The Pit a lot, some inevitably get tired of the food, but it is huge leaps and bounds better than most cafeteria style dining you might encounter.  Bonus is that there is a lot of variety of cuisines:  you can get everything from deli sandwiches, meat and potatoes, fresh stir fry, brick oven pizza, salads, vegetarian and gluten-free options, and so much more.
So here are five reasons your Deac should love The Pit.
1. Make your own waffles.  Any time of day, the waffle iron is there for you if you need that white flour, carby kind of fix.
2. Omelet station.  You can choose from a wide variety of veggies and breakfasty type meats to go in your omelet, and you can watch it being prepared right in front of you.
3. Pineapple.  There is a large salad and fruit bar where you can get all sorts of fresh fruit.  Even in the winter, the pineapple is usually of the extra sweet and juicy variety.   If pineapple isn't your Deac's jam, maybe it would be strawberries or honeydew or some other great fresh fruit.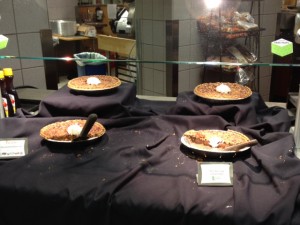 4. Desserts.  There are always big, soft cookies, but my personal favorite is when they have sheet cakes.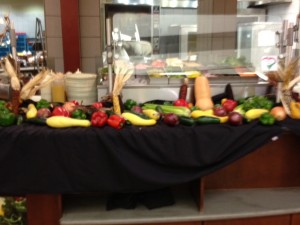 5. Special occasions.  The staff of Campus Dining does a great job celebrating holidays and having fun, festively-themed foods and decorations.
— by Betsy Chapman