Main Content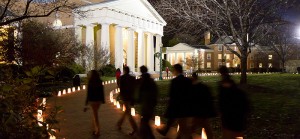 I hope that many of you joined us via livefeed at the 50th anniversary Lovefeast lastnight.  This was as packed as I've ever seen it.  Not only was it SRO in the chapel proper, they had an overflow seating in the newly-renovated Davis Chapel and it, too, was packed.
There were a couple of wonderfully appropriate moments at what is always a warm and heartening service.  One was that Jane Sherrill Stroupe ('67) was present.  She had organized and led the first Lovefeast, with the help of alumnus and Chaplain Ed Christman.  Jane was present lastnight and led the assembly in the Moravian Blessing right before the communal meal of a Moravian bun -with its hints of ginger and winter spices – and coffee.  (And for those alumni reading, the coffee is scads better today than in the late 80s/early 90s, when it looked a bit grayish and was very very sweet.  This tasted great!)  You can read Jane's story in the Winston-Salem Journal's coverage of the Lovefeast.
The guest of honor was Ed Wilson ('43), Provost Emeritus and Professor Emeritus of English.  He was and is Wake Forest to generations of alumni, and whenever Provost Wilson was speaking, students made a point of going to hear him.  So it was especially fitting to have him speak.  I know the alumni tuned in via livestream on the web must have been giddy when they realized he was to speak.  Few Wake Foresters could be as beloved as Ed Wilson – with possible exceptions of Ed Christman our former Chaplain (who could not be with us lastnight, but was watching from his room in Salemtowne, a local retirement community), and our late, great dean of Admissions, Bill Starling.  I used to think of the Eds and Bill as the WFU holy trinity, no blasphemy intended.  They were the big 3 pillars of our Wake Forest lives for so many years.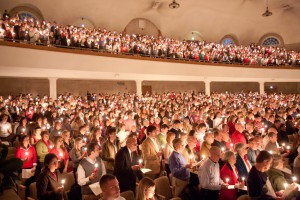 If you missed the Lovefeast lastnight and want to watch it today – the link is live on this page.  It is beautiful music, warm reflections on the holiday season, singing , and the thrilling moment when the chapel is put into darkness and one by one your Moravian beeswax candle gets lit by that of your neighbor, until the whole chapel is ablaze with light.
In all the years I have gone to the Lovefeast, last night I learned something new.  It's always a bit hot in the chapel during the ceremony – everyone arrives bundled up in winter coats, and when you take them off there's all that body heat in there.  That heat gets sustained from 2,400 people squished up close to each other.  But after the candles were lit, one of my dear friends next to me was telling his young daughter "do you feel the breeze yet?" and she waited (and so did I) to feel it – and my friend explained that once all the candles are lit, the flickering of the flames makes for a small breeze.  When multiplied by 2,400 candles flickering at once, there is a palpable breeze.  Which comes right at the moment you need it, and is so subtle you might miss it if you didn't have someone point it out to you.
This was a night for students, faculty, staff, young families, local townspeople and alumni from near and far.  The Lovefeast always unites us, and always sends us home little better and happier than when we arrived.  It is a good, good night.
Speaking of good nights, your students are in finals now.  We have resurrected a longtime tradition, the Late Night Breakfast.  Tonight at 10 pm to midnight, students can come to the Pit for an evening breakfast – all the carb-loading needed to fuel the finals prepping.  The servers and helpers are all faculty and staff – so we take care of getting your kids fed, trays to their tables, etc.  It's a nice night and very festive – urge your Deacs to partake!
— by Betsy Chapman
Recent Posts
April 9, 2020

April 8, 2020

April 7, 2020