Main Content
And you can sort of smell it in the air.  Our students know they have much to do before break, and there is a wide range of end-of-classes/pre-finals faces.  For some they look tired, for others they have a determined look about them, still others carry a nonchalant look like 'I've got this!'
I'm not sure if it's because of the weather (still cold and gray and misty today) or if people are starting to hunker down in work mode and get serious, but I saw a lot more sweats and casual clothing on our students today than one normally sees.
The school is cognizant of the pre-finals stresses, and happily there was a cart advertising free hot chocolate on the Quad.  I took some pictures and then later as I was on my way, I overheard some students in the distance see the cart and say something akin to 'THIS is why I chose this school – I knew it would be hard, but they also do things like this for us."
More of that sort of help will be coming with Wake the Library, which will begin this Friday the 5th.  Students can spend time in the ZSR studying and working, but also having some opportunities for free food, relaxation stations, and some moments of fun and frivolity to lighten the mood.
Lastnight was Lighting of the Quad, and if you are not following Wake Forest University on Facebook, you should – they have some great pictures from lastnight, including some aerials.  You can also friend on Facebook Stu DentUnion and see some of their coverage, including a fun video of all the students with their lit candles.  The Lighting had reflections and songs, the lighting of the Christmas tree and menorah, as well as the trees in the Quad.  A good time was had by all.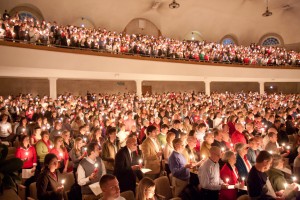 Coming up on Sunday night at 8 pm is the 50th annual Lovefeast in Wait Chapel.  For many students, this is a not-to-be-missed event.  For all of our Deac families, you can join in and watch via simulcast on Sunday night.  You'll go to the main WFU web page (www.wfu.edu) and you'll see a link on how to join the livestream.   The Lovefeast truly is one of the most beautiful communal moments at Wake Forest.  If you want to read some coverage about what it is like, here is a link to last year's Daily Deac about it.
Here's a final few of shots of the campus, taken at different times (early morning and midday).  The weather has not improved one bit.
Recent Posts
March 28, 2020

March 27, 2020

March 26, 2020