Main Content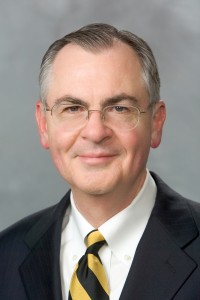 Yesterday afternoon, President Nathan O. Hatch delivered his annual State of the University Address in Brendle Recital Hall.  He spoke about the history of Wake Forest, our distinctive qualities, some of our successes and goals, and more.  I will not be able to do justice to the entirety of his speech, but here are some select excerpts.
– Dr. Hatch opened by acknowledging the sad loss of one of our students this past week, Andrew Pillow.  He praised the campus for rallying to support each other following this tragic loss.
– He talked about our history as an institution.  Wake Forest had humble roots as a Baptist college for students primarily of modest means, and primarily North Carolinians.  For those students (and generations after), Wake Forest opened up a vast panorama of opportunity and taught students not just how to make a living, but how to live.
– That has been a core part of our culture as an institution, and and essential part of our DNA.  We have always been about trying to teach students how to lead lives that matter.  We have always been about excellence without pretension, wholeness and integrity, and the linking of liberal arts and professional education.
– Fun Fact:  Wake Forest is the only school in the US News and World Report rankings that made a jump between the 'regional' to 'national top 25' categories.
– Wake Will, our capital campaign, launched publicly in October.  We will be investing $1 billion that will impact our region, our state, and our world.  $600 million of that will be invested on this campus through student aid, faculty and departments, new facilities, and more.
– We have been working on a Strategic Resource Initiative to identify ways on campus to cut costs and work more efficiently without sacrificing quality.
– Our Teacher-Scholar model is one of our great distinctives.  We have faculty who are genuinely interested in teaching students and who have a heartfelt commitment to them.  Faculty provide the new knowledge and innovations and discoveries that move our campus forward.  Wake Forest was ranked #11 in commitment to teaching in US News rankings.
– Students at Wake Forest have access to a network of people who do a great deal of mentoring for them.  Dr. Hatch is grateful for such holistic support and mentorship.
– The Office of Personal and Career Development has taken a leadership role nationally in helping students to know themselves and figure out how to take that knowledge and connect it to meaningful work and life post-college.
– Wake Forest has joined the Semester Online consortium for online courses, as have many other first-rate universities.  Our first venture into for-credit courses will be a bioethics course this spring.
– Dr. Hatch is pleased that we now have Dr. Penny Rue as our Vice President for Campus Life.  She is a national leader in the area of student wellbeing and she is already working on that at Wake Forest, including the search for a director of wellbeing.  Wellbeing is not just physical health, but also mental, emotional – a multidimensional concept.
– Wake Forest remains committed to the power of the residential college experience.  We want to help our students develop the art of conversation in a world that is highly privatized.  Conversations and personal connections are important.
– Farrell Hall is an example of how we can use buildings to facilitate those personal interactions.  The Farrell Hall Living Room is a way we have enhanced face to face interactions.  Zick's, our new pizza place on the Quad in Poteat, deliberately has very few outlets.  We want students to connect with each other, not their devices.
– One of our goals is to try and teach our students to be leaders with civility in an increasingly polarized world.  We help our students learn to negotiate differences and conflicts with civility and respect.  We welcome all opinions, and let them come together so we can learn from them and each other.  We can disagree in friendship.
It was a very nice look at where we are, what we cherish, and where we hope to go.  We have a tremendous team of faculty, staff, and administrators here.  We are doing good work, and are made better every day by your students.
Recent Posts
August 5, 2020

August 4, 2020

August 3, 2020