The Volunteer Service Corps (VSC)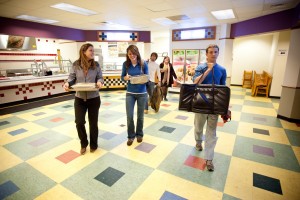 is one of many organizations on campus that works with service projects.  They have an e-newsletter that goes out periodically to let their interested parties know of upcoming opportunities.  If your student isn't hooked up into the VSC pipeline, but you think he/she might enjoy these types of projects, please pass it on as you see fit.
————————————————–
Looking to volunteer at our local hospital? Wake Forest Baptist Medical has many volunteers yearly who commit weekly hours to helping others! If you would like more information, go to: http://www.wakehealth.edu/First-Steps-to-Becoming-a-Volunteer.htm
The next hospital orientation for volunteers is: Tuesday, September 24th at 5:30pm. Orientation is held at Babcock Auditorium, which is located at the hospital!
————————————————–
An upcoming Heart & Stroke Walk (50-60 volunteers needed)
Who: American Heart Association
Where: Tanglewood Park
When: October 19th
The Heart & Stroke Walk is our largest fundraising event, bringing out more than 3,500 participants in the local community to raise awareness for research and education programs in our community. There is a 1 or 4-mile walk route, event festivities including heart-healthy snacks, Kid Zone, CPR, health screenings and more! Attached please find the volunteer form.  There are a ton of volunteer slots ranging from 6:30 to 10:30am. Anyone who signs up can email Matt Mancuso at mancmg11@nullwfu.edu so that we can possibly plan rides if needed
————————————————–
Project Pumpkin, an event sponsored by the Volunteer Service Corps, is an annual service event at Wake Forest University that was started in 1988 to bring together the campus and Winston-Salem communities. Each year more than 1,000 children from local agencies are escorted to the Reynolda campus where students and faculty combine to provide a safe environment for trick-or-treating, carnival games, clowns, and entertainment. The annual event takes place each October. This year, the 25th-Anniversary of the event will take place on the evening of October 30th, 2013.
http://projectpumpkin.groups.wfu.edu/
————————————————–  
Interested in helping out a teacher trying to get her teaching licence while also practicing your language skills?!  In one of the WS/FCS's bilingual programs a teacher from Puerto Rico working as a long term sub needs to pass the elementary Praxis in order to receiver her full NC licensure. Her English abilities are intermediate.  She needs an English tutor to work with her for 2-3 hours per week on academic writing and conversations. If you're interested please e-mail Professor Alan Brown in the Department of Education at brownma@nullwfu.edu.
————————————————–
Piedmont Club Golf Tournament
Date: Friday, September 27, 2013
Time: 8:30am
Located at Salem Glenn Country Club
1000 Glen Day Dr.
Clemmons, NC 27012
If you are interested in volunteering and need hours, please contact James Caldwell at 336-784-5770 or e-mail him atjamescaldwell@nullsecondharvest.org or Harriet Rhodes at hrhodes@nullsecondharvest.org
————————————————–
HARVEST FEST AT THE GARDEN
Date: Wednesday, September 25
Time: 5:30-7:00 PM
Location: Betty and Jim Holmes Food Bank Garden
The Children's Home
1001 Reynolda Road
Winston-Salem, NC  27106
We need 2 volunteers to help with set-up/tear-down from 4:00 – until (finished).  During the event they will just be floating and helping out, they will have dinner provided for them. We need 2 volunteers to help with parking from 5:00 – until (closed).  All they will be doing is to make sure that the guests park in the designated area. If you are interested in helping with this volunteer project, please contact me at 336-784-5770 or by e-mail athrhodes@nullsecondharvest.org. I look forward to hearing from you.
————————————————–
Z. Smith Reynolds Foundation Fellowship
The Z. Smith Reynolds Foundation (ZSR) is dedicated to improving the quality of life for all North Carolinians by building an inclusive, sustainable, and vibrant state. Since its inception, the Foundation has awarded grants totaling more than $350 million to statewide, regional, and community-based organizations in all 100 counties in North Carolina. Every year, ZSR offers exciting employment opportunities for North Carolina college students, graduate students, and recent graduates interested in philanthropy, public policy, community service and/or the nonprofit sector. We want to make sure your students know about them!

ZSR Fellowship

: A two-year, full-time entry position for recent college graduates.

ZSR Internship: A paid, research-intensive summer internship for current undergraduate and graduate students.

Non-Profit Internship Program (NPIP): 20 paid summer internships with non-profits across the state for Pell-eligible undergraduates.

Applications for the ZSR Fellowship, ZSR Internship, and NPIP will be available in early October 2013. Applications and related materials are due: December 3, 2013 for the Fellowship; January 6, 2014 for the Internship; and February 3, 2014 for NPIP. Further descriptions of each program are attached. More information can be found at zsr.org.

You have been contacted because of your tireless work to support North Carolina students in higher education. We invite you to share this information with your colleagues. Please let us know of any other programs, organizations, or individuals you think would like to learn more about these programs. If you or your students have any questions, don't hesitate to call or send an email my way.

Ben Barge

2013-2015 Fellow Z. Smith Reynolds Foundation