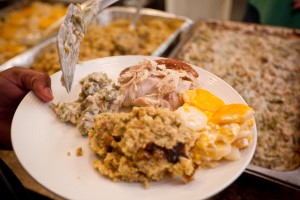 The Wake Forest motto of Pro Humanitate (for humanity) is alive and well on campus, and never more so than at the holidays.  Campus Kitchen is holding its annual Turkeypalooza this week.  The Wake Forest News Service has a great description of Turkeypalooza and its origins.
If your students want to get involved, they can email Bradley Shugoll, the listserv owner, at shugbd9@nullwfu.edu.
This sort of thing should make everyone proud to be a Deac!
—————————
this message is from the Campus Kitchen listserv
Every week, the Campus Kitchen prepares and delivers over 200 meals to local Winston-Salem organizations in need. Among the organizations we partner with are The Children's Home, Prodigals Community, the SECU Family House, and AIDS Care Services. As the holiday season approaches, we are preparing for our annual Turkeypalooza program. During the event we will be preparing and serving over 300 Thanksgiving meals for our community partners and we need your help!
It's CK's biggest week of the year, and you don't want to miss out. Spots are going fast so please let me know asap if you want to volunteer! I have
copied the schedule below.
Thanks and have a great week!
Starts Tuesday November 13th ends Tuesday the 20th.
Tuesday:
Cooking shift from 7-9pm
Wednesday:
Delivery to SECU Family house from 4:30-6:30pm
Cooking from 5-7pm and from 7-9pm
Thursday:
Delivery to The Children's Home from 4:45-7pm
Delivery to Azalea Terrace from 5-6:30
Sunday:
Cooking  from 12:30-2:30, and from 4:30-6:30\
Monday:
Cooking shift from 5-7pm and from 7-9pm
Tuesday:
Delivery to Holly Haven/AIDS Care Services from 5-7pm
Delivery to Azalea Terrace from 5-6:30