Intern C was a busy student last week.  One of the events she covered was the Everyday Innovations Reception in Scales Fine Arts Center. Students in Lynn Book's Creativity and Innovation class held a reception to showcase their design innovations. The students spent time (re)designing something in their daily life to improve, elaborate, or otherwise heighten human experience. They then translate their daily design innovations for someone in another part of the world whose needs are dramatically different than their own. The objective is to cultivate design thinking that has personal and social impact.
Intern C reports below.
——————————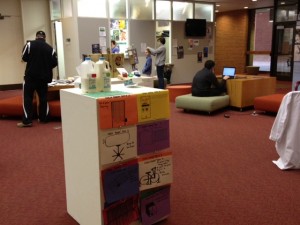 This reception was for everyone on the Wake campus and those in the community.  Wake Forest teaches a Creativity and Innovation class, which is a requirement for the entrepreneurship minor, but draws many students from all academic disciplines.  As part of this class, students must create their own model of a product that they could improve upon an existing function of that product,  or show how this new model could contribute to individuals either in our country or abroad.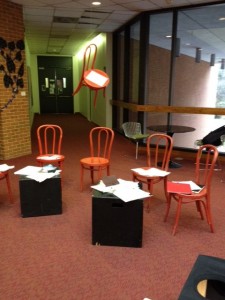 This was a great exhibit.   There was a "create your own chair exhibit" where visitors got to participate in one of the class innovation projects.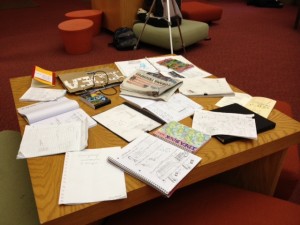 Students' journals that they have kept throughout the semester to help brainstorm ideas for innovations that they might want to create.  It was interesting to look at their ideas.