This morning it is back to reality as students, faculty, and administrators return to their normal routines.  Driving onto campus this morning, I saw the usual cadre of early morning student joggers and students with 8 am classes hoofing it toward the center of campus and the academic buildings.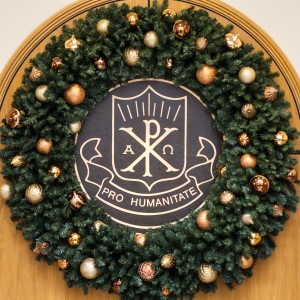 There is a scant two weeks left of classes, and then exams begin on December 10th.  What this will mean for your students is two frenetic weeks of finishing papers and projects and getting ready for finals.  There will be a lot of trips to the ZSR Starbucks, and going to study groups/Chem Clinic/ and other tutors.
Finals are always a nervy time, especially for our first-year students, since this will be their first experience with them.  Thankfully, your students will have some nice holiday diversions in the next two weeks, which will help take the edge off of things.  Danu, a Christmas in Ireland, will be on November 28th as part of our Secrest Artist Series.  Then there is the Lovefeast on December 2nd, the Lighting of the Quad on the 4th, and the beginning of Hanukkah at sundown on December 8th.
Campus is being decorated for the holidays too.  Benson and Reynolda typically have very nice Christmas trees and wreaths in public places, and lighting is starting to go up on the Quad.  I have not been up to the Quad yet today so I am not sure if it is up yet, but there will be a giant Moravian Star above the entrance to Wait Chapel.  It is really stunning.  For a little background on the Moravian Star – which is seen everywhere in Winston-Salem during the holidays – Wikipedia has the history.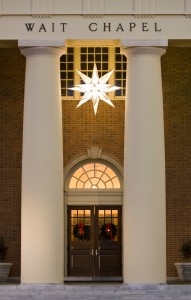 Even though you just saw them, it's not too soon to think about the pre-finals care package.  If you send your student some of his/her favorite cookies or snacks (enough to share with friends!), and a nice note of encouragement about finals, it could start Finals Week off on the right note.