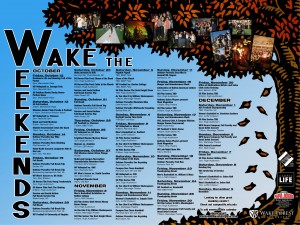 As we look to the end of this week – and just one more school week before Fall Break – it's worth noting that there is a heck of a lot of programming scheduled for your students in their leisure time.  Our friends in Student Union and Campus Life put together this terrific summary of many of the weekend activities that will take place from now until the end of the semester.  So in the event your student pulls out the age-old refrain from childhood 'there is nothing to do' – refer him or her to the Wake the Weekends poster!
We also want to encourage all our Deac parents and families to show their own support for Wake Forest every Friday by wearing our school colors of black and gold, or WFU clothing whenever appropriate.  We consider parents and family members as part of the larger Wake Forest family, and just as we are trying to encourage our current students to Go Black and Gold on Fridays, we invite you to join in as well.
Finally, we'll close with a reminder about why it is a great idea to call your kids today.  Studies show that if parents call and talk to their college students on Friday afternoon or evening, those students are less likely to engage in high-risk behavior such as excessive alcohol use.  The studies show the parent doesn't have to explicitly talk to his student about alcohol – it's the simple fact of talking to the student, with its implicit reminder of family connections, responsibilities, and parental expectations for behavior – that affects the student and serves to reduce risky behavior.  Of course, many parents will speak more directly, urging their students to be sensible and safe, especially in regards to alcohol.
So call your students this afternoon. Talk about whatever you like.  Be overt about drinking and expectations if it suits your personal style and family dynamics, or be very general and subtle and simply remind your student how proud you are of him or her, and tell them to be safe in whatever they do.
Have a great weekend wherever you are.  Go Deacs!