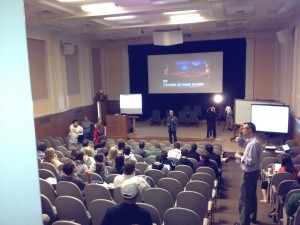 Lastnight some students gathered in the Annenberg Forum of Carswell Hall to watch the presidential debate.  Our intern happened to be there and gathered this picture, telling us that "Using clickers, students in the audience have the opportunity to vote on various questions during the debate. Wake the Vote!"
Wake the Vote has been a series of initiatives and information for students on how to participate in the election.  Civic engagement is one of the things we hope our students will learn, because we want them to leave not just as learned individuals upon graduation, but as ones who will care about local, regional and global issues and who will use their gifts and talents on the issues we face.  A presidential election is a great learning lab for students who want to get started in the idea of civic engagement.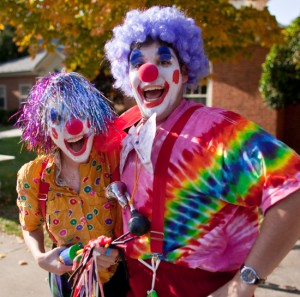 The other great student activity of the day will be Project Pumpkin.  Along with Move In Day, Commencement, Hit the Bricks, and the Moravian Lovefeast, Project Pumpkin is one of the all time Best Days to Be On Campus.  From mid-afternoon on, we'll have over 1,000 local students coming to campus for a Halloween carnival, trick-or-treating, games, candy and more.  The students do a great job organizing games and fun activities  – and they are predictably clever in their costumes.
We hope to have some pictures to show you tomorrow after the festivities.  Because so many of the kids who come are minors without their parents, we typically don't post pictures of the young ones (since they don't have parents here to give consent) – but hopefully we'll get some good student costumes and maybe some wide shots to show you what is going on.
If you talk to your student today, tell him or her to get up to the Quad for Project Pumpkin.  If it doesn't make you feel good, nothing will!