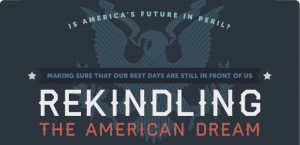 It is a cold and rainy Monday morning, Deac families.  Yesterday and today have been our first taste of truly cold weather.  Yesterday was grey and overcast, alternating rain and mist for a good bit of the afternoon.  Today the high is scheduled to only reach 49.  It is going to warm up later in the week, but today looks pretty abysmal.  With the shifts in the weather come inevitable colds, and with flu season just around the corner, your students might want to get their flu vaccine (clinic tomorrow).
In happier news, we have something good to look forward to this week.  Kudos to the departments of Music and Political Science, as well as International Affairs.  These offices have collaborated on a very interesting one-day symposium that is going to take place on Thursday, October 11th.  "Rekindling the American Dream" is the name of the symposium and it's aim is "to contribute to an informed public debate ahead of the November elections by exploring the history, character, present condition and future potential of this uniquely American vision of continuing prosperity and rising social mobility."  The symposium has a nice website that shows its full schedule.
The night before the symposium, on Wednesday October 10th, there is going to be a pre-event, another one of our Voices of Our Time speakers.  "On the Road in America with Joe Klein" will be on Wednesday, Oct. 10th at 6 p.m. in Wait Chapel.  The Voices of Our Time website describes this event as follows:
"TIME Magazine columnist and bestselling author Joe Klein hit the road last year to find out what people in America were thinking outside the Washington Beltway. Klein traveled from New York to Los Angeles, and more recently, drove south to north, starting at the border in Laredo, Texas and winding up in Iowa. Along the way, Klein met with politicians and community leaders as well as everyday people who invited him into their homes and businesses to talk about politics, politicians and the challenges facing America. Klein will share insights from his journey during Voices of Our Time, which is being presented in conjunction with Wake Forest's Rekindling the American Dream Symposium on Oct. 11. The symposium is sponsored by the Departments of Music and Politics and International Affairs and is free and open to the public. Please visit Rekindling the American Dreamfor more information."
It may be hard for your students to realize that there will come a time in their lives where they won't have easy access to these great thinkers or programs, but as adults we know these opportunities get harder and harder to come by, especially as lives get busier and busier with work and home balance.  Students won't always want to be told where to go and what to do – and they all are busy and have their own priorities.  But maybe if you think they'd be into these topics, you can send them a link to this post and ask "What do you know about this?  Would this be something you might like to do?"  Might be the bump they need to decide to attend.