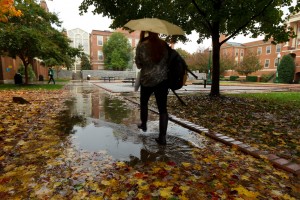 If your student has an 8 or 9 am class today, they are going to be unhappy.  Right now it is a pelting rain, and there are big enough puddles that if you are a young lady wearing flat shoes, they will be soaked in about a minute.  This is a morning for raincoats and Wellies to be sure.  The forecast says that later in the day it will clear up, so there is hopefully some relief in a few hours.  And it is not cold – it's low 60s right now – so that is a mercy as well.
The weekend proper was lovely, and your students are starting to see the fall colors come out in the leaves.  The Wake Forest campus – and Winston-Salem in general – can be spectacular in the fall.  The trees are changing colors now, and in another week or two ought to be close to their peak.  One of the best ways to see the leaves is to walk to Reynolda Gardens.  There is a wonderful path that goes from the back part of campus, near the Byrum Welcome Center and Winston Hall, and it winds through a wooded area all the way up to Reynolda House Museum of Art and Reynolda Gardens.
Reynolda Gardens has a great, formal area that has manicured lawns, and depending on the time of year, you might see a whole host of various types of roses, or summer vegetables and herbs.  There is a lovely set of columns that is a favorite place for people to sit for a bit of peaceful reflection.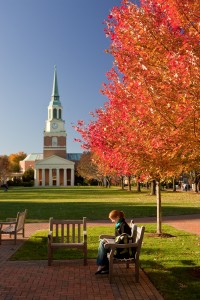 One of my favorite pictures of fall on campus is this last one.  Reynolda Hall, the main administrative building, used to be flanked in the front by two giant magnolia trees.  The trees were tall and beautiful, but one of them got sick, and it started to wither and clearly it was not thriving.  They cut the magnolias down a few years ago and replaced them with beautiful maple trees that turn a gorgeous shade of red.  Ken Bennett, our University photographer featured in our Meet a Deac a few days ago, took this great picture of a red-headed student against the red tree, with Wait Chapel in the background.  It's a great picture.