Over the weekend, there were a number of pre-Halloween events designed to give your students some spooky things to do.
Our Z. Smith Reynolds Library hosted another of their Humans v. Zombies events on Friday evening at 8 pm.  With the cultural phenomenon of the TV show The Walking Dead, there is no shortage of students who want to shoot some zombies and run around the library.  There are pictures of the Humans v. Zombies event on Flickr, and if you visit the Z. Smith Reynolds Library Facebook page, you can see a post with a video link.

Student Union sponsored Frightfest, which included events throughout last week.  Friday night they held a Murder Mystery Dinner, advertised as follows: "Find out who's guilty as you puzzle through the clues of a mysterious murder. You participate and observe the action while enjoying dinner."
Then on Saturday, Student Union held its Monster Bash:  "Come celebrate the Halloween weekend with some spook, fun… and food! Don't forget to wear your costume!"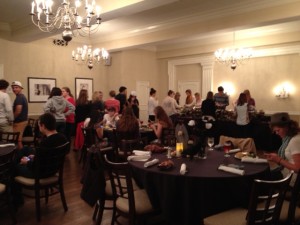 The Mag Room also got in on the action.  They sponsored a Halloween dinner on Friday night – a buffet dinner with a lot of fun Halloween decorations.  More pictures are below.
Finally, one thing to anticipate – the annual Midnight Halloween Concert.  This is free, but tickets are required.  Your student can call (336) 758-5026 to reserve.  This one is a tradition not to be missed.  The orchestra dresses in costume and there are always great visuals to accompany the ghoulish music.