Main Content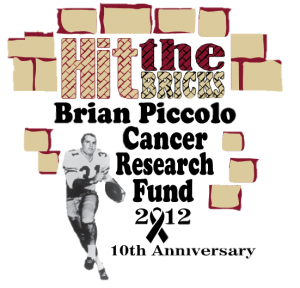 Today's Daily Deac entry comes to us from Mike Ford, Associate Dean of Campus Life, about one of our campus' finest traditions, Hit the Bricks.  Deac families, please encourage your students to get involved.  It's fun, it's for a good cause, and there are bragging rights for the winning teams!
——————————–
Hit the Bricks – September 27
Coach Jen Averill remembers her dear friend and former field hockey star student athlete, Maria Whitehead, when she participates in Hit the Bricks. Maria who was on the 2002 NCAA Championship team died of melanoma at the young age of 25. Kevin Cox, in Communications and External Relations, remembers his mother-in-law Almena, who is a 30-year survivor of cancer when he runs his laps around Hearn Plaza for Hit the Bricks. Everyone who walks or runs in Hit the Bricks has their own story of a loved one or friend who has fought the good fight against this terrible disease, some as cancer victims and others as cancer survivors.
Hit the Bricks for Brian has become a signature event for the Piccolo Cancer Fund Drive, and it will be celebrating its 10th year on Thursday, September 27th.  Beginning in front of Reynolda Hall at 11am, hundreds of students, faculty and staff will walk and/or run around the Quad for the next eight hours as individual participants or members of relay teams in the collective effort to find a cure for cancer. Brian Piccolo, a charismatic student and All-American football player at Wake Forest in the 1960's died of cancer at the age of 26. Students started the Brian Piccolo Cancer Fund Drive in 1980, and over the years it has grown in tradition and significance while raising over 1.5 million dollars for cancer research and treatment through the Wake Forest University Cancer Center.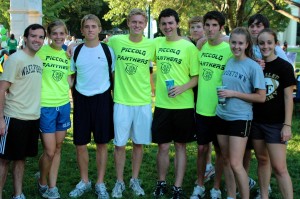 Hit the Bricks for Brian is a remarkable day at Wake Forest as over one thousand students, faculty and staff come together in the spirit of Pro Humanitate to share in the fun and the physical and financial efforts to find a cure for cancer. Throughout the eight hours of the event, participants are treated to a plethora of special guests, entertainment, food and competition  options including the Wackiest Costume Lap, the Three-legged race, the Remembrance Lap and the Luminary Ceremony. Team competitions are held across five separate divisions and prizes are awarded for the most laps completed and the most money raised.
Co-chairs, Aline Souza, John Allen Riggins and Clare Rizer lead their student Piccolo Committee in partnering with University Stores and Campus Life and Leadership to sponsor Hit the Bricks for Brian. It is truly an all- campus experience uniting our hearts, souls and bodies to save and provide a better quality of life for those we know and love.
Faculty and staff are encouraged to form a departmental or office team or to participate individually with the students in Hit the Bricks. Please see our website for more information and to register.
Recent Posts
August 5, 2020

August 4, 2020

August 3, 2020