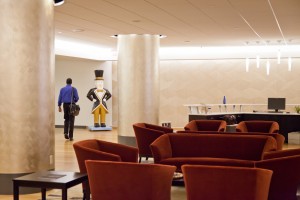 This morning I was taking a look at some of the campus photo archives, and came across this picture of the new uptown Schools of Business facility in Charlotte.  In the background of this picture, you can see a Deacon statue.
Back in 2001, the University did a Deacons on Parade, like the Cows on Parade of Chicago, and replicated in other cities with their signature icon.  We held a design contest for 20 Deacons, each decorated by students (either individually or in groups).  Some were from the undergraduate college, and each of the professional schools had one.  The one you see in the picture of the Charlotte facility is the MBA students' Deacon.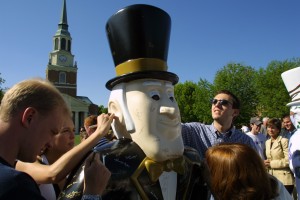 While most of these Deacons on Parade were auctioned off (with the proceeds benefiting the last capital campaign), there are still a number of these Deacons on campus.  In the Porter Byrum Welcome Center, there is a Deacon in the corner of the ground floor.  It was the Signature Deacon – which if memory serves was sponsored by Student Government.  Their goal was to have the Deacon signed by as many members of the campus community as wished to sign.  You can see some students doing just that during the Deacons on Parade kickoff (April 2001).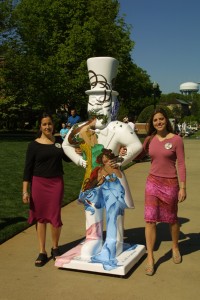 There is a Deacon in the library.  I cannot remember the proper name, but it might have been the Mucha Deacon, based on the works of Alphonse Mucha and his beautiful Art Nouveau women.  The Deacon was done by hand by two amazing young women, seen here in this picture.  I believe there is a Deacon in the Benson Center too, but I cannot recall which one it is.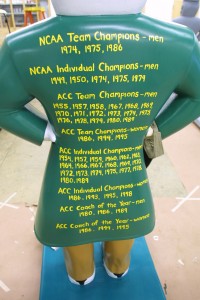 And because of Webb Simpson's big win this week at the US Open, I feel compelled to include a picture of the Golf Deacon.  Attired in Master's green jacket, and with a club in hand, the back of this Deacon detailed WFU's golf prowess up to 2001.  Pretty impressive stats for Little Ol' Wake Forest.
So the Deacons live on.  Here are a couple of shots of them all assembled.  The very observant will note the concrete sidewalks; this was before the Quad got its beautiful brick walkway.  You'll also notice the giant magnolias flanking Reynolda.  Not difficult to discern that the one on the left in this photo was failing to thrive; they later were taken down when the Quad was bricked.
I have to say, having worked on the project, that this was one of the most fun things I've ever been a part of at Wake.