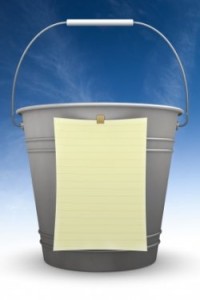 Through the beauty of social media outlets like Facebook, Twitter, and Pinterest, you can be privy to other people's "bucket lists" – those things you hope to do in life.  They could be big adventures, or small accomplishments, but they are meaningful to you.  Some families create a "family bucket list" of things they want to do over the summer and post the list – and their progress – online for the world to see.
I overheard a conversation this past weekend where a mother was talking about her eldest child leaving for college.  She was excited about the student's opportunities, but I could also hear the wistfulness in her voice at the prospect of her first child going away.  Her kids were lovingly teasing her – Mom, don't think about it now, you'll start crying – and Mom acknowledged that this was going to mean a change in the family dynamic for everyone.  And while it is exciting, it is also a bit sad.  And I got the sense she wanted to make the very most of this last summer, because once college starts, Everything Changes.
Whether your student is going to be a senior or just entering first-year, chances are you are thinking about some of the this is the last time we'll all do X as a family.  So in the spirit of bucket lists – here are a few of them to think of.  Some are of course more oriented toward what students should do while in college.  I am including those because it might be interesting to talk about some of these things with your student – what is on his or her bucket list?  What was on yours when you were in college or your early 20s?
You may discover some things about your student – and vice versa – that surprise and delight.  And even if you only pick a couple of things to do as a family (knowing college students have their own lives and sleep schedules!), it might still make for some terrific memories for your family.
The Summer List 101 (this is from 2010, but you can adapt!)
The 2012 Summer Bucket List Challenge (has some options for younger kids, but you could adapt to college aged ones!)
The Only College Bucket List You'll Ever Need