Today's Daily Deac was written by Jennifer Richwine ('93), Assistant Vice President of University Events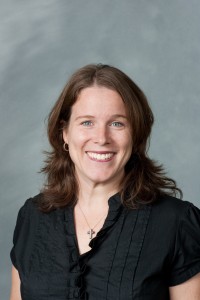 Last fall, Mark Shriver came to Wake Forest to speak about the 50th anniversary of the Peace Corps, to celebrate the organization his father (Sargent Shriver) founded, and to celebrate the significant role Wake Forest has played in the Peace Corps over the years.  Wake Forest has a rich tradition of alumni serving in the Peace Corps – so much so that in February of this year, the Peace Corps ranked Wake Forest #20 in the Top 25 Peace Corps Volunteer Producing Colleges and Universities, an impressive record of service especially considering the size of our student body.  We have 17 alumni serving currently in the Peace Corps, and more than 200 alumni who have served since its founding, including my father, Marty Richwine ('63), who served in Ecuador while Sargent  Shriver was the Director of the Peace Corps.  In fact, my father was serving in Ecuador when President Kennedy was assassinated.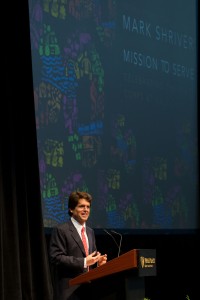 In Mark Shriver's speech, he referenced a book he was working on about his father's life, and the many things he discovered and rediscovered about his father after his father's death in 2011.  Many of these ideals that his father held dear and lived out every day – the same ideals that led him to start the Peace Corps, the Job Corps, and Head Start – are those which so wonderfully embody the Wake Forest motto, Pro Humanitate.
Shriver's book about his father, A Good Man, was released this past Tuesday.  I had the opportunity to read an advance copy of the book and was incredibly moved by this wonderful tribute to Sargent Shriver, and to the lessons he taught (and is still teaching) to his son.  Lessons that speak to Pro Humanitate, to serving others, loving others, and simply, to being a "good" person.
Shriver discovers what made his father not just great, but good, a word used countless times in the days following his death.  Many of Shriver's most poignant reflections about his father came while watching his father navigate the long and painful journey through Alzheimer's.  He describes this journey that he took with his father in touching and beautiful words that honor the man Sargent Shriver was, even in the final days of his life.
I read A Good Man on a cross-country flight and found myself moved to tears several times by Shriver's honest and genuine revelations.  I was amazed by his willingness to be so vulnerable about his own struggles and what he has learned along the way from his father.  How to be a better father himself, a better husband, a better (good) man.  Shriver uses his lessons from his father to remember what is important beyond the titles, the accolades, the "riches" we all often find ourselves chasing.  Many passages from the book have stuck in my mind, but I love this one because it speaks to Sargent Shriver's gift of hope:
"But for Dad, the fulfillment of the duty to hope was more important than winning and ruling; the service to hopefulness trumped the office every time, even though the offices he held made for a sparkling resume.  It took me until after his death to see it clearly:  his faith demanded his hopefulness, and his hope underpinned his work.  He worked to give others the opportunity to hope – that was his abiding ambition."
The things that Sargent Shriver found important in life – service, faith, hope, love – are the things I am proud that Wake Forest teaches on a daily basis.  I'm proud that we have such a rich heritage of our students and alumni serving in the Peace Corps, as well as countless other organizations that serve our communities and our fellow citizens of the world.  I'm proud that we have a Pro Humanitate Honor Roll, initiated by our students.   I'm proud that we have coaches who tell their student athletes that they care as much about making them good men as they do good athletes.  I'm proud that Wake Forest brings people like Mark Shriver to campus to inspire us to serve in whatever corner of the world we call our own.
No matter which side of the political aisle you are on, I can't think of a better Father's Day gift this year than a copy of Shriver's A Good Man.  My father will be receiving his own copy this Father's Day, with a special note of thanks for teaching me by example what is important in life.
Who do you have in your life that you need to thank?