Main Content
The Wake Forest motto is Pro Humanitate or 'for humanity.'  While students hear and see that phrase a lot, I am not sure how much it really sinks in to their minds.  In the early part of your college years, you are so busy immersing yourself in all the things college has to offer – I feel isn't until much later in students' tenure that they start thinking more broadly about their place in the world and what it means to serve humanity.
By the time students graduate and leave this place for the Rest of Their Lives, I suspect they think more about these sorts of big questions and the kind of lives they wish to live.  Our students as a whole are very volunteer-oriented, and that is translating into service projects when they are alumni.
The Alumni Council and Alumni Office sponsored Pro Humanitate Days, four days nationwide where Wake Forest Clubs could volunteer and do service projects in their home areas.  There is a great article about Kim Shirley ('85, P '13), Alumni Council president and current Wake Forest parent, who envisioned this program.
On campus this past Friday, students, faculty, staff, and their families could participate in a number of Pro Humanitate Days projects.  There was food preparation with Campus Kitchen, gardening in the campus garden (including painting signs for the food that is being grown), science projects with the Chemistry department, coloring Deacon head pictures and sending inspirational messages to WFU alumni who are in the military, and more.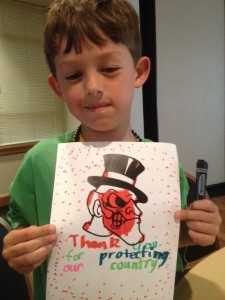 Many of the service projects for us were taking place in the Benson Center, and there was the familiar beehive-buzz of happy chatter that happens when lots of people are together.  I was at the table with Deacon heads for the troops.  We had a wide variety of age ranges there, from a lady who had graduated in 1959, to a young alumna in her 20s, to me in my 40s with my son (who was very pleased to be coloring for soldiers).  Everyone had very creative ways of decorating their Deacons and there were some very sweet messages to our alumni troops, thanking them for their service.
It was a terrific event.  In a busy world, where we are all scrambling with jobs and pressures and family (and for students, school) sometimes the best medicine is to stop what you are doing and serve someone else.
Recent Posts
March 28, 2020

March 27, 2020

March 26, 2020