Now that the students are gone (and the ones coming for Summer School won't be here for a few more days), the campus is trying to take care of major and minor construction projects that are best accomplished in a relatively empty campus.
You already know about the big construction (Farrell Hall and the two new residence halls).  But they are also working in the Benson Center. If I understand correctly from my contacts in the Benson Center, it sounds like the current Copy Center (located on the 2nd floor near the food court) is moving to the 3rd floor, near the Benson Ticket Office.  The Wells Fargo (formerly Wachovia) bank branch that is currently in Davis Hall on the Quad is going to move down to where the Copy Center had been.  I have heard the Subway dining venue will be expanded in the space where Wells Fargo had been, but I have not been able to confirm it.
There is work in Babcock Residence Hall as well.  On the Facilities web site, it is titled as "Restroom Renovations & Elevator Renewal."  Starling Hall, which had been the site of our Admissions office before the Porter B. Byrum Welcome Center was built, is undergoing "repurposing and renewal" but I am not sure what is destined for that building.
There are a number of improvements happening to classroom buildings, particularly the science labs, and working on spaces for professors' offices.  For those of us who work on campus, it's amazing how walls can be erected (or taken down) to make new spaces.  When I worked in Reynolda Hall, there were old, large rooms that had been reconfigured in numerous ways as staff was added or workspace needs changed.  Our Facilities staff are quite clever in how they can reshape things.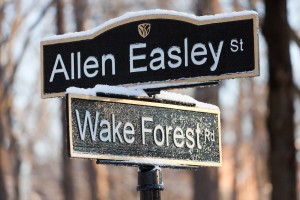 They are also adding new and much nicer looking street signs.  They aren't just the plain green-with-white-lettering signs that you see everywhere in America.  These are nice black signs, with the University crest and white lettering.  They had started adding these throughout the year (hence this picture with the snow on it), but now there are more of them popping up along campus.
Finally, the large parking lot near the Polo Road entrance/Farrell Hall construction site/Worrell Professional Center is torn up right now.  They are working on the final portions of the road, focusing on curb, gutter, sidewalk, lighting and landscape improvements.  Right now it is a tangle of construction fencing and orange and white road blocks, but by the time the fall semester begins it will all be completed.