Took a pre-8 am stroll around campus and with classes having officially ended, there were almost no students milling about.  I saw a couple of joggers making the loop around campus, and as I got closer to Poteat Field, I saw a group of maybe six young men, half of them shirtless, running soccer drills on the field.   There were long, bright blue sticks coming up out of the ground in a pattern, and a couple of them were standing opposite each other and kicking the ball zig-zag through them.   Others were kicking the ball to each other with more force (and more distance between them), and occasionally one would kick too hard and his partner would scramble to keep the ball from rolling down the hill onto the street or into the Worrell parking lot.  These guys looked serious – either proper soccer team members or club soccer, cleats and everything, and in great shape.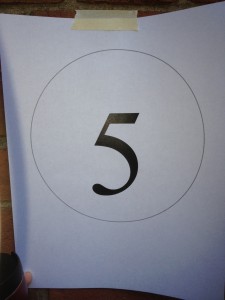 On the Quad this morning is a series of 8.5×11 sheets of plain white paper, each with the number 5 typed on them.  No idea what they mean, but if you are reading this and know, email me at chapmaea@nullwfu.edu and clue me in on the mystery.  Also on the Quad was chalked in several places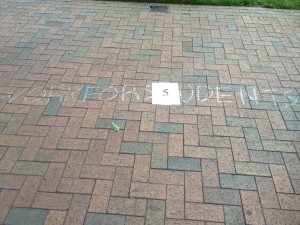 "Workforstudents.com."  (If you type in that website, it takes you to something for Vector Marketing, which supposedly has sites all over the US and needs manpower).  I first thought the address was "Workforeststudents.com" – since our students are fond of calling us "Work Forest" – funny how your eyes see things sometimes.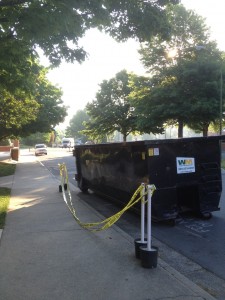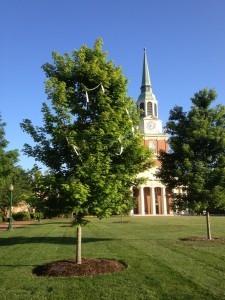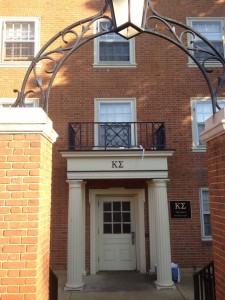 Also on the Quad, there were a couple of trees that were minimally rolled.  Not all the trees, just a couple of them.  Not sure of the significance.  As I made my way back toward my building, I saw that there was a stray toilet paper roll above the Kappa Sigma lounge (along with a volleyball).  Some student left a cobalt colored bottle on one of the lounge walls in that same courtyard.  Bud Light Platinum.  I don't know if that counts for "upscale beer" to college students.
The dumpsters are in place to help students rid themselves of the flotsam and jetsam collected during the semester.  In a few days, they will probably start blocking off some of these lots to help students be able to load their cars.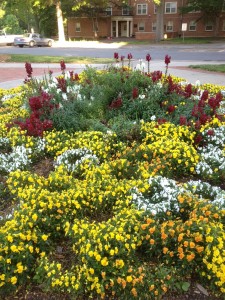 There are flowers blooming everywhere, both of the planted variety and the flowering trees variety.  I loved these tall red flowers from the parking lot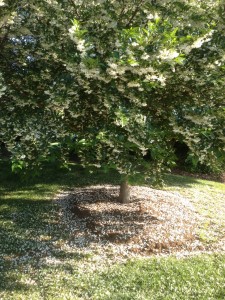 between Reynolda, Benson and Davis.  This picture of the flowering tree doesn't capture its full beauty, but in person it looks like it has snowed all over the ground, beautiful tiny white petals.
Today is Reading Day, which means everyone gets the day to study before exams start tomorrow.  It should be a quiet day on campus, unless you are in the ZSR Library, which I predict will be packed.  Also, kudos to our fine ZSR staff for kicking off another Wake the Library, which will help your students have a great venue for those late night studies (and some fun).
Finally, one programming note for our new parents of the Class of 2016: the New Students website is now live.  New students who have paid their deposit should have received an email yesterday alerting them to the presence of the site.  Parents will receive an email today – we'll mail to all new parents who have completed their Parent Record Form and provided us with an email address (if you have not, please do so!).  You and your students should check this New Students site frequently throughout the summer.  And stay tuned here on the Parents' Page as well!