One of the fascinating aspects of university life is its traditions.  And every school has them – some widely held and passed from generation to generation, some of them springing up with the current crop of students, some known only by a handful – like a secret handshake – and observed rarely.
On the Old Campus (Wake Forest's original location in the town named Wake Forest, near Raleigh, NC), there was an administration building that had the seal of Wake Forest College inlaid in its floor.  The seal was in the center of a beautiful lobby, and in the times I visited there with Old Campus alumni, they were careful to tell me not to walk on the seal.  It simply wasn't done, against some unwritten code of honor that said you don't walk on the seal.
Several years ago, the cement walkways on the Quad (Hearn Plaza) were torn down in a construction project.  The cement was replaced with red brick walkways, and the project was massive enough that they couldn't get the whole Quad done in one summer.  So for one year we had half cement, half brick, with the entire Quad being bricked the next summer.  At the end of this process, a large bronze replica of the seal was placed in front of Reynolda Hall.
There is obviously a lot of foot traffic in front of Reynolda Hall, and the seal gets walked on countless times a day by students, faculty, staff and visitors alike.  But *should* we walk on the seal?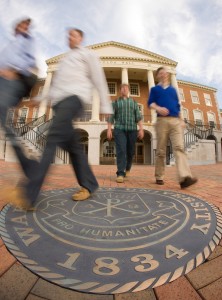 If you station yourself at one of the nice benches outside of Reynolda and watch the passersby, you'll notice that some are careful to sidestep the seal.  They might have connections to the Old Campus (grandparents who went there), or maybe they are children of alumni who have heard about not walking on the seal, or maybe they are part of the Traditions Council, our group that is keen to uphold some of the treasures of our past. Or maybe they don't walk on it for some other reason.
It always pleases me when people don't walk on the seal.  It is an important part of our past, and as an alumna and one who cherishes our traditions, I choose not to walk on it myself.
I wonder how many students know of this tradition?  Would they care to keep alive a tradition from the old campus, if they knew it?  Or is this a practice that is destined to be one that only a few will follow?