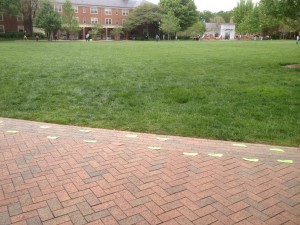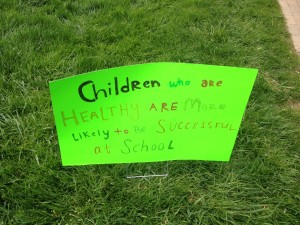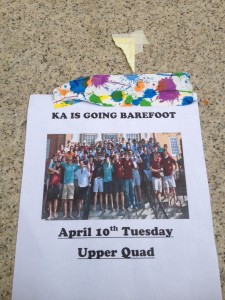 On Tuesday I ventured across campus and found a lot of activity and many flyers.  The most visible activity was A Day Without Shoes, where students could make a donation and walk a lap (or more) on the Quad barefoot to raise awareness and money for the numerous children around the world who live without shoes. According to the event organizers, the profits from this event will be given to an organization called BASICS International which helps to feed and educate children in Ghana, West Africa.  All along the brick path of the Quad were green feet taped to the ground, representing the walkers who had donated, and there were bright green signs with facts about children in poverty.  You could also buy knit bracelets, tshirts and more.  Some student organizations were walking, including the KAs.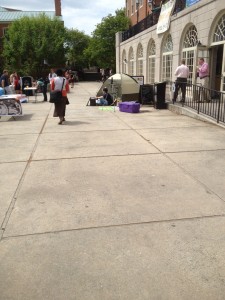 On the back of the Quad near the entrance to the Pit, I saw a student with a homemade paper mask on, playing paint bucket bongos outside a tent.  Around him and his tent were handmade signs that said things like "Occupy the Dean's List" and "End Laissez-Faire Grading."  Easily, this was the most arresting sight outside the Pit in a long time.  Tent picture follows.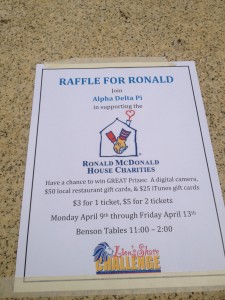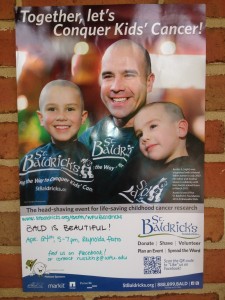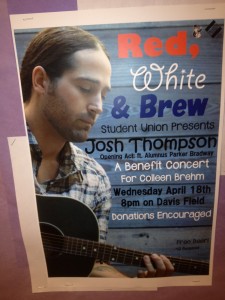 Over at the Benson Center, I saw flyers for a number of charitable causes, which remind us all that our student body does have a wide and vast range of philanthropic interests.  There was one for St. Baldrick's Day, where students can shave their head for charity and in solidarity with cancer patients, one for a Ronald McDonald House raffle, and for a benefit concert for Colleen Brehm, the dining worker who was struck in a hit-and-run accident on campus that is still unsolved.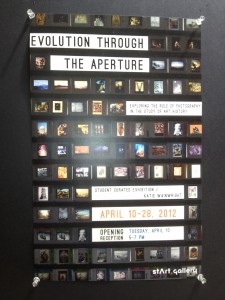 Inside the Benson Center they were advertising a new exhibition at the START Gallery as well as a sandwich board advertising Student Union's latest "Short Course" on glass bead making.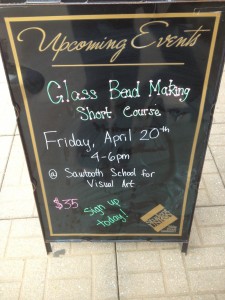 As always, there is a lot going on and great activity on campus.