Thanks to all the Wake Foresters who have played our March Madness – Waketology game to select the best campus experiences, places, and things.
We're down to our Final Game!  Who will take the title?  Vote through Sunday and we'll post the final game on Wednesday and draw a winner for our Parent Programs Prize Package.  Thank you for playing!
Any day on campus you can find a good number of events that students, faculty, and staff can participate in if they wish.  Here's a sampling of what is going on on campus today.  Where do you think your students might wish to be?
————————
10am-3 pm – Vote Against Project Photo Shoot.  The LGBTQ Center and the Vote Against Project will be having a photo shoot to educate voters about Amendment One and will be providing free voter registration to students, faculty, staff and community members, followed by a panel discussion about the social, business and legal implications of Amendment One, which goes to the ballot this May (Pugh Auditorium).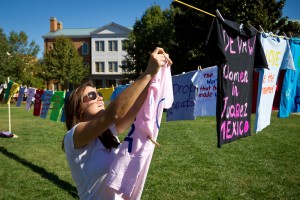 11am-2:30 pm, – Human Rights Clothesline Project.  Students will raise awareness for general human rights and human rights violations around the world by painting and hanging t-shirts up on the Magnolia Quad (Manchester Plaza).
3:30-5 pm – Physics Seminar.  Professor Jim Curran, Department of Biology will lecture on "Hydration Shells of Molecules in Molecular Association: A Mechanism for Biomolecular Recognition" (Olin 101).  Refreshments will be served at 3:30.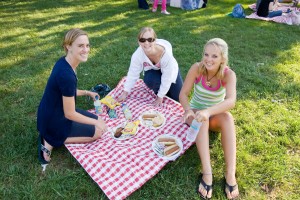 4-7 pm – Big Campus Connect.  The Big Campus Connect is a week-long series of events designed to give even more opportunities for meaningful interaction between faculty-staff and students. Originally proposed by an undergraduate student in 2009, this program is now in it's fourth year. Faculty, staff (and families) and students are invited to a picnic on the Magnolia Quad (Manchester Plaza).
5-6 pm – Business Ethics: Individualism, Altruism and the Elusive Common Ground.  Dr. Buchholtz is past division chair of the Social Issues in Management Division of the Academy of Management, was a member of the ethics task force that designed a Code of Ethics for the Academy and served as the inaugural chairperson of the Academy's Ethics Adjudication Committee.  She will lecture on business ethics (G001 Kirby Hall).
7-9:30 pm – Amendment One and Its Implications for North Carolina: A Panel Discussion.  Often called the "marriage amendment," Amendment One has implications for all people in North Carolina. Join us for a discussion of its consequences on our families, our communities and our state's economic health (ZSR Library Auditorium 404).
7:30 pm – Collegium Musicum Concert.  The Collegium Musicum Vocal Ensemble and Collegium Instrumentalists will present an early music concert featuring Renaissance Music of Spain and the New World (Brendle Recital Hall, Scales).