I've said it before and I'll say it again: I love the staff of the ZSR Library.  They are student-focused, committed, creative and innovative, and on top of their game technically.  Wake the Library will be coming in time for finals week, and it gives students a safe place to study, eat, and blow off some steam.  It's awesome.
Just this morning, I stumbled on something new, and I have no idea if I can credit the ZSR staff for this or if it's the work of a student.  But it is culturally-relevant and what the heck, it's a rainy cold Wednesday so why not brighten it up.
Let's start with a  little background on the Internet, Millenials, and digital entertainment.  We all know this generation is YouTubeing, Tweeting, and Facebooking its way to all sorts of online fun.  Among the various social networking pleasures is the Internet meme.  If you're new to memes, they are concepts that spread rapidly from person to person via the Internet, largely through Internet-based email, blogs, forums, Imageboards, social networking sites, instant messaging and video streaming sites such as YouTube.
Actor Ryan Gosling (who made legions of girls swoon for his romantic role in the movie "The Notebook" and has been more recently in "Drive"), has been the focus of an Internet meme that has created lots of sensations.   The Ryan Gosling meme includes a picture of him, and always begins with "Hey Girl…" followed by a very appealing and sensitive statement designed to make women swoon, Notebook-style.  There are tons of Gosling meme derivatives – about feminist theory, arts and crafts, libraries.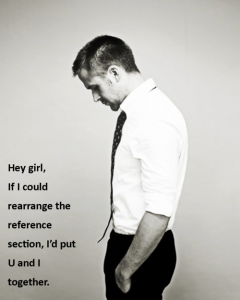 And now some creative soul has created the ZSR Ryan Gosling page, which recreates the meme, only with Wake Forest ZSR Library references.
This is Millenial generation clever. So if you want to slide in a cultural reference with your student, you now can.  I'd be curious if this is as funny to parents and families as it likely is to our students.