During my wanderings across campus yesterday, I took pictures of some of the flyers and other advertisements your students are seeing.  Here's a few items to note.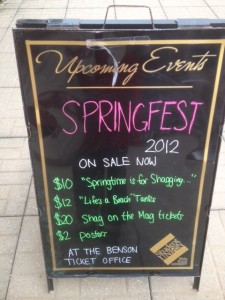 Springfest – this is an annual festival hosted by Student Union.  It will be held March 26-30 and includes one of the favorite campus traditions, "Shag on the Mag," which is a tented party featuring Southern beach music and the Shag.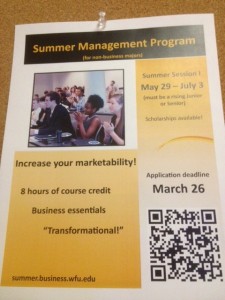 Summer Management Program – this is a very popular intensive summer business course that is designed for non-business majors.  Sometimes called "business boot camp" here, it allows students in liberal arts majors to get a comprehensive exposure to business principles.  The application deadline is March 26.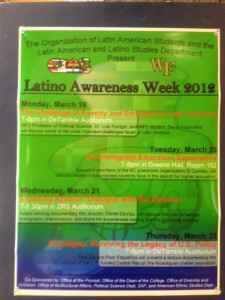 Latio Awareness Week – coming up right after Spring Break there is a campus cultural event that is being sponsored, with panels and speakers.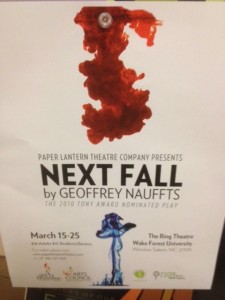 Ring Theatre Production of Next Fall – there is also a theatre offering in the Ring Theatre (our smaller theatre in the round in Scales Fine Arts Center) after break.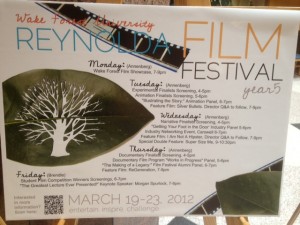 Reynolda Film Festival – this has been a wonderful addition to campus life.  Now in its fifth year, the Reynolda Film Festival brings speakers, filmmakers, directors, and even features student films.
Finally, and this is just for fun, our students are pretty clever about how and where they advertise, and what they advertise.  These two flyers were in the ladies room stalls in the ZSR Library – one with a poem, advertising the WFU Press (which has a strong history of publishing Irish works), and one is a 'best cooler competition.'  It is not high art like the Reynolda Film Festival, but it is sort of campy and fun, and seems apropos with Spring Break looming.  Enjoy.