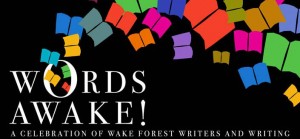 I was at a meeting this past week with one of my favorite Wake Forest faculty members, Tom Phillips (read his "Meet a Deac" profile).  He is working on a fantastic new initiative on campus, Words Awake!, a conference celebrating Wake Forest writers and writing.  Words Awake! will be held on March 23-25 and I hope your students will take advantage of the opportunity to hear from prominent WF writers.
A full schedule for Words Awake! is available here.  Here are some of the highlights that you might want to share with your students:
Tom Hayes ('79) will screen his documentary on his father, legendary Esquire magazine editor Harold Hayes ('48).  Edwin G. Wilson ('43), Provost and Professor of English Emeritus, will describe the lives and culture of Wake Forest authors of the past.
Readings by prominent authors, such as novelists Stephen Amidon ('81) and biographers Doug Waller ('71) and Penelope Niven (MA '62).
Panel discussions, with alumni/ae authors, including: "Writing in a Dangerous World" and "Writing Washington" to "Writing for the Young Adult/Child Mind" and "The Art of Teaching Writing."
Publishers and booksellers will be on hand to sell works by Wake Forest authors (including signings) and other writers.
A banquet to celebrate the inaugural Wake Forest Writers Hall of Fame.
A Poetry Slam for another writers and readers to network.
More details are available on the Words Awake! website.  For any students who are aspiring writers, serious students of literature, or just fans of great writing, this is the place they'll want to be.