Students are back, which brings a life and vibrancy to our campus that I have to say I missed over the winter break.  It feels much emptier without your kids here!  They are getting back to their routines – classes, Starbucks, jogging and other active pursuits, student organizations, dining in the Pit and Benson, late night fun, and more.
This first week there is typically some shuffling around in students' schedules.  Some students are wait listed for a class they want, and as someone drops a course, the ripples can be felt among the others waiting in the queue who wish to take that student's place.  Things tend to settle out after the first week or 10 days, and then students will be locked in to their new schedule and classes.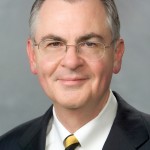 President Hatch made a welcome back video for our students (watch it here).  In it, he mentions that at the start of a new semester, every student gets to refresh, and no one has less than an A (of course, because nothing has been graded).  It's a good sentiment to remember – whatever the challenges of the past semester, they are over now, and students should look ahead.
It's a good time to remind parents to remind their students that if they are having issues in a class, seek help early.  Do not wait until midterms – seek assistance as soon as possible.  It's much easier to keep up with issues as they arise than waiting until they become much larger.  The Learning Assistance Center, Writing Center, Math Center and faculty office hours are there for you.
Welcome back, students!