————
What is your official job title?
Associate Professor of French
How long have you worked at WFU?
I've been at WFU in the Romance Languages department for sixteen years.
In laymen's terms, what do you do?
I teach courses in French language, literature and culture at all levels. In my research, I study sixteenth-century France; I'm currently working on a book about the ways artists and writers depict French cities and towns during the religious wars between Catholics and Protestants in the Renaissance.  [more on her research here]
What is your favorite course to teach?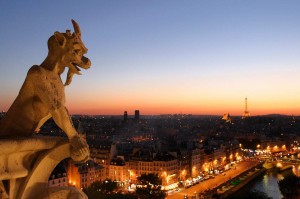 It's too difficult to pick just one! I teach two courses on Paris: a seminar for French majors and minors, and a first-year seminar in English. In both courses, we read novels that depict Paris – everything from the rise of the department store in the nineteenth century to the situation of immigrants today. It's great to be able to "visit" my favorite city with students, and without leaving campus.
Call me crazy, but I also love teaching French grammar! Students are usually wary of the advanced grammar course (French 319), but they end up learning so much, and having fun, too.
How would you characterize Wake Forest students?  What are some common attributes they have?
Wake Forest students are lively, engaged and engaging, and extremely motivated.
What advice would you give to students?
Definitely study abroad. Students often say their semester abroad was one of their favorite times as a student at Wake Forest (you're one of those people, aren't you?) It seems like a cliché to say that studying abroad opens your eyes to the world and to yourself, but it's absolutely true!
Yes, I echo everything you say about studying abroad! My semester in Dijon, France was the best one during my tenure at Wake Forest.  I urge all my academic advisees to consider a semester abroad!
What do you like best about working at Wake Forest?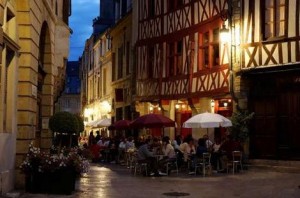 The people: top-notch students and wonderful colleagues. I've also really enjoyed the semesters I've spent Dijon, France with the WFU study abroad program. It's so much fun to see students discover France and the French, and to cheer them on as they gain confidence in the language (and, as a result, in themselves).
Bonus questions!
Book you're reading now: Swamplandia! by Karen Russell. I try to read as many of the New York Times top fiction picks as I can each year.
What music are you listening to these days: New albums by Wilco (The Whole Love) and Tom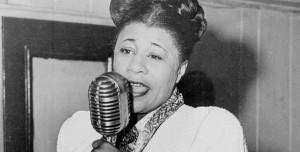 Waits (Bad As Me), and lots of Ella Fitzgerald
Website you frequent: markbittman.com
What most people don't know about you: I love the movies of Fred Astaire and Ginger Rogers.