One of the beauties of our campus is that because of its size, we can know the members of our campus community.  And because we know them, we like them, and we stay connected.  I am proud to say that we cheer our students' and colleagues' successes and mourn their losses with them.  Wake Forest is just like that.
There is a great story to tell about a sophomore, Hiter Harris ('14), who got a once-in-a-lifetime opportunity and has acted on it.  Hiter is a sprinter on the men's track and field team, and happened to be offered an alternate position on the US bobsled training team.  After careful consideration and in consultation with his parents, Jil and Hiter Harris (P '14) of Richmond, VA, as well as his track coaches, Hiter took a risk and withdrew from Wake Forest for the fall semester to see if he could make it onto the team.
Jil and Hiter are members of the Parents' Council and have hosted our Richmond New Student Receptions for the past two years, and so we've gotten to know each other well.  They are kind enough to keep us (and other Wake Forest family and friends) up to date on Hiter's progress with the team.  Hiter emailed me this recently: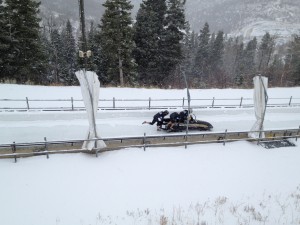 "In the training season, he made the US National Team and made it on a sled.  He is on USA-5.  He is currently running in the Americas Cup – last weekend in Park City, this weekend in Calgary, and then in Lake Placid in December.  He is currently the back pusher (called the brakeman – even though there really are no brakes) on both the 2-man and 4-man sleds.  It is still a long journey to the Olympics; 3 sleds go and they don't determine that until very close to the date….I have included a couple of pictures that you might find fun – note the one of his helmet, proudly wearing the Wake logo (as well as of his high school)….We recognize that this is not the most direct route to academic conclusions or track team results, but I hope you will agree that sometimes these experiences provide some of the best life learning – and that is what Wake does so well."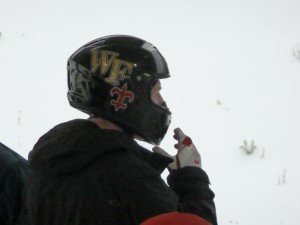 I emailed the Harris family to make sure they were OK with me talking about Hiter's journey in our blog, and they were gracious as always.  Hiter is a wonderful young man and a loyal son of Wake Forest.  I know he will return to school at the right time, and until then, I hope you will join me in watching his progress.  Hiter has a blog and a Twitter account (he is KingHenrythaIV) – both worth keeping an eye on.  Let's put the collective power of the Wake Forest family behind him and cheer him on with all we've got!
GO DEACS!