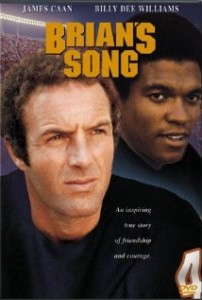 To commemorate the 40th anniversary of "Brian's Song" on November 30, Wake Forest is conducting a survey of Wake Forest students, alumni, parents and fans about their favorite football movies. We believe WFU is one of two schools* to have three major motion pictures based on its football players or program: Brian's Song in 1971, the remake of Brian's Song in 2001, and The 5th Quarter in 2011. This makes Demon Deacons uniquely qualified to weigh in about the best football movies ever made.
Deac families, between now and November 29, we invite you to vote in our survey.  On November 30th, the top 10 winners will be announced.
Now's the time to show your Demon Deacon pride!  Vote for WFU!
* The other school with three movies about its players or program is Notre Dame with Rudy in 1993, Fighting Back in 1980, and Knute Rockne All American in 1940.