If you have ever received an invitation to a Wake Forest Clubs event, that's the handiwork of my colleague Kelly Meachum, Executive Director of Alumni Services.  Learn more about how Kelly helps welcome Wake Foresters – both alumni and parents alike – in cities nationwide via Club events as well as for events on campus like Homecoming.
————————–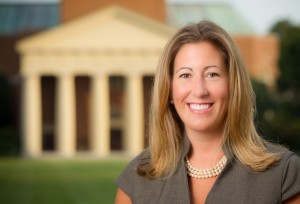 What is your official job title?
Executive Director of Alumni Services.
How long have you worked at WFU?
Eight years. After graduation I moved to Washington, DC, along with a lot of my classmates. I worked for a lobbying association and after three years in Washington I returned to Winston-Salem.
In laymen's terms, what do you do at WFU?
I have worked in a variety of capacities in my time at WFU. I have done both fundraising and events but my heart is in alumni relations. I work with alumni around the country – through our Alumni Council and the National Clubs Program – to engage alumni, parents and friends through regional programs and volunteer opportunities and renew their ties to the University.
How does the work that you do touch WF parents and families?
WF parents are always invited and often participate in WF Club events. If you receive one of these email invitations, please join us!
In what year did you graduate and what was your major?
I graduated in 2000 as a business major.
What are some of your favorite memories as a student?
I made incredible friends while I was here. Date functions, formal, post exams…there might not be anything better than sitting on the Tri Delt wall on the Quad on a beautiful Friday afternoon! Homecoming was (and still is) one of my favorite weekends of the year. My parents are both WFU alumni so I remember coming to Homecoming as a child and then having my parents here while I was a student and celebrating in that stage of life.
What advice would you give to today's students?
Enjoy every minute of your time that you are here! I tell students on move-in day that they are about to have the best four years of their lives. Work hard, have fun, cherish the people around you and take advantage of every opportunity you are given. And then come back to see us after you graduate!
What is the best part about working at Wake Forest?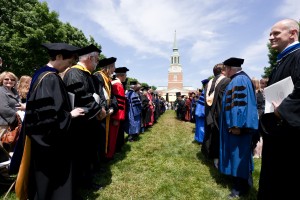 I love Wake Forest – everyone should be so lucky to go to work each day to a place that they care about so passionately. There is something about the Wake Forest family that can't be explained or replicated. I always stand on the balcony of Reynolda Hall at the end of Commencement and watch the faculty members line up to hug students during the recessional – that is the heart of Wake Forest and I get to live it every day.
You know I love the completely frivolous questions!  Here goes:
Book you're reading now/last read: Bossypants – purely recreational reading but Tina Fey is impossibly fun
What music are you listening to these days: local favorite SalemSpeaks! They played at a WFU Alumni Party last weekend and were fantastic. Special shout-out to freshmen Brad Stokes and Katherine Ririe – you guys are amazing!
Favorite TV show: Glee – it's a happy place
Website you frequent: wfu.edu/alumni
Guilty pleasure: Favorite dining location on campus and what you frequently eat there: the Pit. The food there is great, especially compared to the Pit when I was a student!
Preferred drink at Starbucks: this time of year, Gingerbread Latte