Ok, so Fall Break is Friday-Sunday, and while a lot of students will be headed elsewhere, there will be some who stay in town.  So, what should your students do if they are going to have a "staycation"?
Pilot Mountain – about 30 minutes north of campus is a state park with wonderful views and hiking options.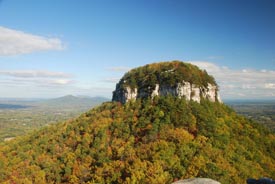 Reynolda Village – visit the Modern Masters exhibit at Reynolda House Museum of American Art.  Treat yourself to a lunch at Simply Yummy or the Village Tavern.  Take a long stroll through the gardens.
Tanglewood – this park in Clemmons, NC is a great place for a walk or run, or you can sign up for horseback riding, pumpkin patch hayrides and more.
Dine downtown.  Downtown Winston-Salem has a plethora of new eateries.  A personal favorite of mine is Camino Bakery, which has ties to WFU (it is alumni co-owned).  Breakfast of Course offers some of the best food in the city.  Spend some time in the art galleries of Trade Street.
Like live music?  Try Ziggy's (which had been a staple of my own college years, now relocated downtown).
These are just a few ideas.  Hopefully your students will take advantage of all our city has to offer!