Happy Tuesday, Deac families!  In case you missed it, we had a monster win this past weekend over Florida State.  If my sports facts hold true, we were the only team to upset a Top 25 ranked team this week.  The Quad got rolled, everyone was happy.  A wonderful way to start Homecoming week.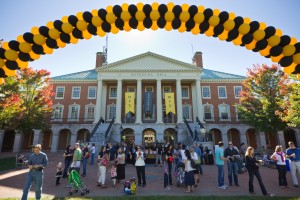 Our Homecoming festivities for alumni start this Thursday and continue through the weekend – a full schedule of events is online here.  Select highlights include:
A Voices of Our Time speaker event on Thursday evening, which celebrates the 50th anniversary of the Peace Corps.  Mark Shriver is the guest speaker.  Mark is the son of Sargeant Shriver, who was brother-in-law of President John F. Kennedy and the driving force behind and first administrator of the Peace Corps.  There is a great article in the most recent WF Magazine about Wake Forest's enduring ties to the Peace Corps.
There will be a Reynolda Mile Gallery Walk on Friday at 4:30, which showcases all the best of the arts and museums associated with Wake Forest.
Your students will not want to miss the President's Ball on Friday evening at 9 pm. Alumni, students, faculty and staff will come together for the 4th biennial President's Ball honoring President Hatch. With a live band and dance floor in the arena and additional spaces with a jazz band and bars, the Ball is sure to be a fabulous night spent with fellow Deacons.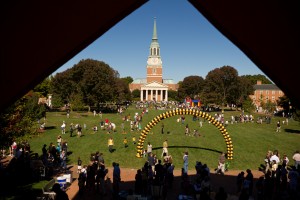 On Saturday morning from 9-noon is the Festival on the Quad, which will have free food and drinks, carnival games, live music and more.  Tell your students to get up early and go to the Festival.  It's such a great event – and sooner than they realize, it will be their 5th reunion, hard as that is for you – and they – to believe.
View the full Homecoming schedule – and if you are an alumni family, we hope to see you on campus!  Go Deacs!