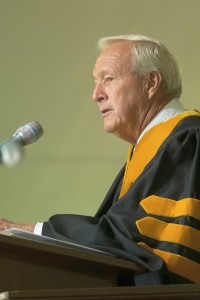 One of the brightest spots during Homecoming weekend was that a living legend was back on campus – Arnold Palmer.  He was here because our newly renovated on campus golf complex has been named in his honor.
Mr. Palmer is a legend.  He was of course a three-time conference champion and two-time national champion as a Deacon, and has won more titles in his long career than I can mention.  He is not only an iconic golf legend, but a respected businessman.  His love for Wake Forest has been constant and true, and since his time on the Old Campus he's continued to be our ambassador, cheerleader, trustee and more.  He gave the 2005 Commencement speech, and it was good.
There's a very nice story online about Mr. Palmer and this weekend's dedication; read it here.  This is my favorite quote from that article: "Palmer has been quoted many times about his affection for his alma mater. 'I have had a love affair with Wake Forest since my undergraduate days,' he said during his commencement address in 2005. 'But I didn't realize until many years later what I had truly learned at Wake Forest, both in and out of the classroom, about the meaning of a productive and meaningful life.'"
I met the legend one time myself, and it was a great honor.  He was speaking at one of our summer leadership conferences and I was escorting him to a meeting about his banquet speech.  Just walking through a large hotel lobby with him, everyone stopped and stared, sort of bowing to him as he passed, saying "good afternoon, Mr. Palmer" and so forth.  Even with all that admiration and success, he was a very kind man.  He was as nice as he could be, and every bit as polite as a gentleman of the Old Campus would be.  What I remember is that he stopped to play with a child, a little girl.  She had no idea who he was, nor did she care.  And at that moment, he seemed to think that there was nothing more special on the planet than this cherubic child.  I bet he is an incredible grandfather.
If you are a fan and you'd like to leave a message for Mr. Palmer, there is an online guest book.  Show your love for one of our greatest Deacs!