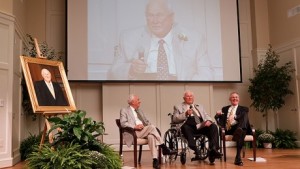 There was a Very Big Deal on campus this weekend, and that was the dedication of our admissions and welcome center, which will now be known as the Porter B. Byrum Welcome Center.  If you are not familiar with the story of Mr. Byrum, I would urge you to check out our news coverage of his remarkable gift to WFU and the dedication ceremony.
I did not attend the dedication but talked to some of my colleagues who did, and they said it was a remarkable event.  Mr. Byrum, an attorney and real estate developer, came from modest means.  He and three of his brothers went to Wake Forest, and because they were sons of a Baptist minister, they attended tuition-free.   He said at the dedication: "My daddy never would have been able to put four boys through college, so somebody ought to pay back that debt.  It makes me feel good to do that."
His gift of $40 million will go in large part to scholarships.  He had already been a strong supporter of our students: since 2001, 64 students have received more than $2 million in scholarships from Mr. Byrum.
This is an historic gift, given by a very great and humble man.  Thank you, Mr. Byrum.