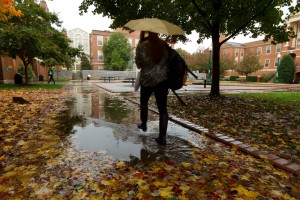 Classes were in session yesterday (it truly was a labor day for our students and faculty) and it was a dreary day to boot.  Lots of rain – at times in the afternoon the rain was quite heavy – and it lasted through the night.  This morning it is still drizzly and overcast, with rain in the forecast today.  (For all our Deac families in Texas, we wish we could send you some of this rain.  Be safe y'all.)
Normally during the first full week of classes, there is a lot of shuffling around of classes.  There are students on the Wait List for a class, just waiting for that space to open up so they can enroll there and drop some other class they do not want as much.  It's a lot of ebb and flow and fluidity in our students' lives for a few days, and then the puzzle pieces fall into place.
If your student is having difficulty getting his or her class schedule finalized, advise your student to contact the Office of Academic Advising to schedule an appointment with one of the professional academic counselors on staff.  The OAA staff is there to help your students and they have access to course openings that might benefit your students.