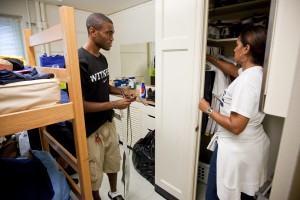 It's getting closer – move in day for the Class of 2015, which will be on Friday, August 26th.  All over campus this past week, delivery trucks have been loading things in the residence halls.  I've seen big boxes of mirrors to go on the backs of doors, some lounge furniture, and other necessaries of the halls.
Move in is a fun time for sure.  We try to tell parents and families not to panic – that even if it looks like your student's roommate has brought everything but the kitchen sink, somehow everything all fits.  Somehow our students always figure out a way to make their room setups work out for the best.
And what do we know of our newest Deacs?  There are 1,242 new students who come from 41 states and the District of Columbia; 28 of the students are international students.
We're excited to meet them!