During the school year, Poteat field (across the street from Poteat residence hall and the tennis courts) is a favorite place for intramural and club sports teams to play games.  In the summer, when the students are not here, we often see sports camps doing drills and games.  This year, Poteat field isn't being used much because of the construction of Farrell Hall, the new business building.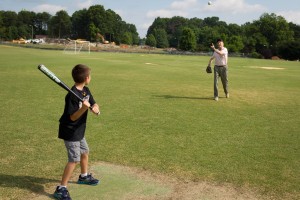 In this shot, taken recently on campus, our emeritus business professor Tom Taylor is playing baseball with his grandson, Matthew (11).  If you look in the background of this shot, you can see the construction of Farrell Hall.
Some have asked if the Polo Road entrance will be closed during the whole school year.  So far what we have heard in the Parent Programs office is that the road will reopen for move-in.  Should that change, we'll keep you posted.