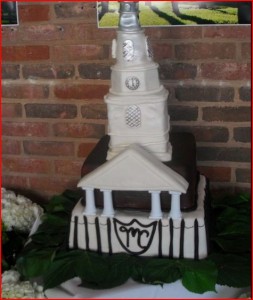 Summer means lots of weddings, and I received an email yesterday about a great Wake Forest one.  Alumni parents David and Carol Stefany ('80, P '09, '13), who I came to know from their service on the Alumni Council (several years ago) and now the Parents' Council, are proud parents of Matthew ('09).  Matthew and his bride, Courtney, were married on June 18th.
The rehearsal dinner was Wake Forest themed.  The rehearsal dinner had 8 tables, representing the 8 buildings around the Quad.  Everyone was assigned to a Quad building (be it a dorm, Wait Chapel, or Reynolda Hall).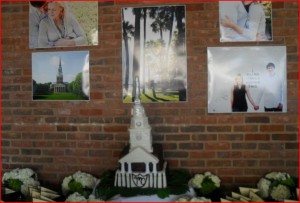 Matthew's groom's cake was shaped like Wait Chapel.  It's an impressive cake to be sure!  The evening also featured "Screamin' Demon Daiquiris" and NC barbecue, cole slaw, hush puppies, and sweet tea – so many of the things that Wake Foresters love.
As you look at the picture below, you will see little pennants.  The pennants had each guest's name and the table assignment (Poteat, Davis, Taylor, etc.).
At each table was a larger pennant centered in a "grassy Quad" (black basket with grass… gold bow around the basket). There were pens at each table so that people could write a note to the happy couple and then stick their small pennants in the "Quad" at each table.  I'm told that Matthew and Courtney have loved reading the notes on the back of the small pennants.
If you have had a Wake Forest wedding or other WFU themed party – send us the details and pics at parents@nullwfu.edu.  Wake Foresters are so clever – so let us show off your creativity and school spirit and show us what you've done!