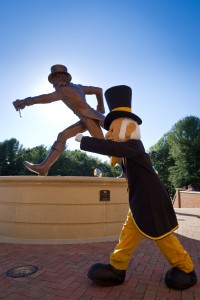 Pre-school orientation programs have been a staple on the WFU campus for generations.  These camps allow first- year students to arrive a few days before official orientation and meet a smaller group of their classmates around some sort of shared experience.  Perhaps the oldest pre-school camp was a faith-based one sponsored by Campus Ministries, but in recent years there have been others that have emerged, most notably around service projects/volunteerism and also sustainability/green issues.
My colleagues in Campus Life just let me know of a new program they are offering this year, which should be of interest to students who are (or want to be) rabid Deacon fans and are filled with school spirit.  It might appeal especially to alumni families.  Details about Deacon Camp are below:
"Deacon Camp is a four day crash course in what it means to be a Demon Deacon. Your son or daughter will get insiders access to places where few of their classmates may ever go: President Hatch's residence, Wake Forest's original campus, and special access parts of our athletic venues. Not only will he or she learn about the great traditions that make our campus such a wonderful place, but they will make friendships that will last throughout the next four years."
There is even a YouTube video – check it out!