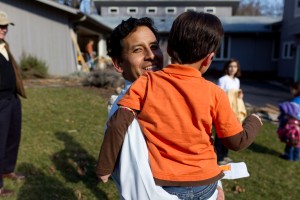 On June 20th, Wake Forest was featured in USA Today for the story of computer science professor Paul Pauca, who built a program called "Verbal Victor" to help children who have difficulty communicating.
"Paul Pauca is well-aware of these challenges. His 6-year old son Victor suffers from a rare genetic disorder that causes breathing problems and poor motor control, and as a result, has been hospitalized several times over these years.
Yet despite these struggles, Pauca, a computer science professor at Wake Forest University, has focused on 'the better' by providing his son with the best care possible. And thanks to these efforts, his son has flourished….
Now, with a little help from his Wake Forest students, Pauca has created 'VerbalVictor,' a smartphone app that not only helps his own son overcome any communication challenges he faces but one that is already helping other children and their parents as well."
Another story of Wake Foresters doing well – and doing good – at the same time.  Enjoy it!
Read the full story online.