All first year students are housed on the south part of campus.  We deliberately concentrate all the first years in one part of campus so that they are all sharing common living space, have frequent access to seeing each other on the walking paths, and to help build community as a class.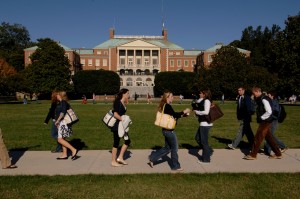 One of the central features of the south part of campus is the Manchester Quad, which had been called the "Mag Quad" for years.  In the green space between Bostwick and Johnson residence halls is a lovely quadrangle that is framed by beautiful Magnolia trees.  This morning, the Office of Sustainability posted a blog entry about the history of the Magnolias and their important link to the Old Campus in the town of Wake Forest, NC.
It's a good read.  Always good to know your history. Many thanks to our colleagues in the Office of Sustainability for the historic reflections!