Main Content
This is arguably the best time of the year on campus.  Yesterday it was in the low 80s, sunny and beautiful.  There are flowers everywhere – tulips and pansies and phlox – plus flowering trees.  It really is a feast for the eyes.
It's also the time in our campus life cycle to be gearing up for Commencement.  It's T-minus 4 weeks until graduation, so all over campus there are beautification efforts.  There is extra effort right now into seeding the lawns and cordoning off the places where students cut through the grass so it can grow big and lush before everyone arrives for the big weekend.
Buildings are being pressure washed and/or having the windows washed.  There will be repainting of speed bumps, touching up the paint on all the railings and ironworks.  Commencement is the highlight of the academic year on campus and the culmination of the hard work and blood, sweat and tears of the graduates, and it really is a glorious day.
For all our Daily Deac readers who are inclined to the spiritual, I'd ask you now to invoke Mother Nature's best efforts for our Commencement day.  There is nothing prettier than Commencement on the Quad (Hearn Plaza) when it's sunny and beautiful.  Here's a couple of shots from Commencements past, so you can see what I mean.  Let's all hope to get this kind of weather for May 16th.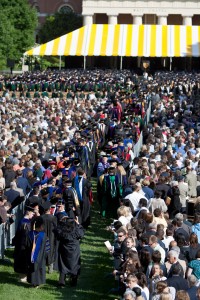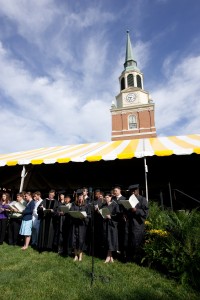 Recent Posts
August 5, 2020

August 4, 2020

August 3, 2020