Main Content
Today's the last day of class this week.  Tomorrow is a University holiday for Good Friday, so there are already some students who are making it a long weekend and heading home.
It would be hard to have a more perfect weather week on campus.  It's been warm but not hot, with gentle breezes.  It would be hard to improve on this kind of weather.
In Starbucks the other morning, I heard someone talking about "Senioritis" and it is completely understandable.  It's hard to concentrate when everything is in glorious full bloom.  And students are seeing the sprint to the semester's finish line – a lot of work, and for many the pang of leaving this place and the friends they love.
Here's a shot of campus in the morning.  It's still and quiet and cool and calm.  One of my favorite times of day.  If your students keep a WFU Bucket List, they really ought to add getting up to watch the sun rise from the Mag Patio, and sitting on the Quad at twilight and watching the sky turn purple.
What else is on their WFU Bucket List? Email parents@nullwfu.edu and tell us!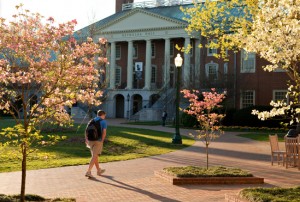 Recent Posts
August 12, 2020

August 11, 2020

August 10, 2020