Main Content
Parents – we spend most of our time on the Parents' Page talking about your current WFU students.  However, for those of you who have high school students, there is a summer opportunity that might be a wonderful fit for them.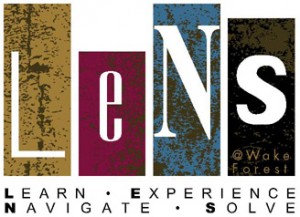 LENS  is a 3-week summer enrichment program for rising high school juniors and seniors.  It runs from July 10-30, 2011.  Here's some information from the LENS program page:
"LENS @ Wake Forest is a summer program like no other. Think of it as an incubator for change-makers. Here, you'll learn from nationally renowned experts who can teach you how to confront complex issues and tap into your passions to develop solutions. We're not talking solutions on paper – we're talking viable ones that will be put into action. And if you're really motivated, you can come away with a plan ready to implement back home.
Here's how it works:
You and 35 others will follow a program of study based on a current global challenge. This year, it's sustainability. You'll partner with Wake Forest professors to examine the complexities of this issue through different lenses – ecologic, economic, political, social, legal and more. Questions will arise. Problems will surface.
And then:
Your team will select a problem to solve. You'll explore solutions by working in mini research groups, interacting with professors from across the Wake Forest campus, going on study trips, writing blogs, testing ideas through service projects, and fine-tuning results. And in three weeks, you will have learned a new way to translate ideas into action. You can count on challenging work, lively discussions and powerful creative energy."
More details are available on the LENS web page, including information for parents, tuition, and the application process.
This could be a wonderful way for your rising high school junior or senior to experience a college campus and an innovative group learning dynamic.  Talk to your high schoolers and apply now!
Recent Posts
August 5, 2020

August 4, 2020

August 3, 2020