This morning is Campus Day for accepted students.  Over 400 families are scheduled to be on campus today, and there will be an equal number (or maybe even more) at Campus Day next Friday.
Other than Commencement, Campus Day is one of the best days in the calendar year on campus.  It's a time of great excitement, laughs, smiles, some nervousness.  It also makes college a reality.  This is really going to happen, isn't it? Students have spent their entire time in high school building to the moment where they make a college decision – and when the time comes, it can be exciting and scary at the same time.
For some of the students attending Campus Day, they have already made the decision to attend Wake Forest, and the visit to campus is confirming their choice, hopefully helping them connect with future classmates and professors. For the other students and parents who attend, the student is still making up his or her mind and this is a last chance to visit campuses and make the final decision.
To any of our families visiting today, please look for representatives from the Office of Parent Programs near the registration area.  We'll be on hand to talk to you and hopefully answer any parent questions you might have.
Here's an aerial shot of the beginning of registration from last year's Campus Day.  The weather last year was incredible – sunny and breezy and perfect.  Will today be as nice?  I certainly hope so.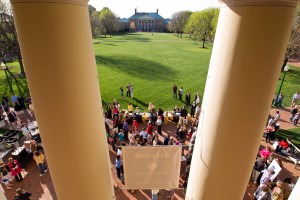 Recent Posts
June 14, 2021

June 11, 2021

June 10, 2021