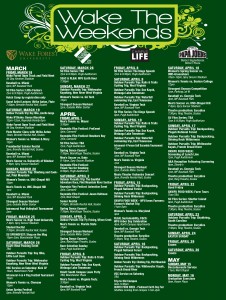 Our colleagues in Campus Life and Student Union work hard to provide a vast array of programs and activities for our students every weekend.  They recently came out with their Wake the Weekends poster (click the link to be able to see it in PDF form) that shows all the things that are planned for the coming weeks.  It's an impressive list.  These are activities for all of campus by the way – everyone is welcome.
The Outdoor Pursuits area has a lot of items on the Wake the Weekends list, which makes sense now that the weather is absolutely gorgeous. There's backpacking trips, hikes, kayaking, even skydiving.  If your Deac wants to try something new, please encourage him or her to consider the Outdoor Pursuits group.
Springfest continues this week on campus.  Yesterday there was free ice cream midday on the Manchester Quad and they were showing the Oscar award winning movie The Fighter lastnight outdoors. The activities culminate this weekend with Shag on the Mag, which is usually one of the most anticipated campus events of the year.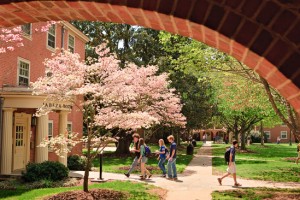 The mood on campus this week is very upbeat.  The weather could not be better – it's been in the upper 70s, sunny with a breeze.  Flowers are popping up everywhere, and no matter what kind of test you may have or paper that might be due, it's hard to be in a bad mood when the weather is this nice.