Main Content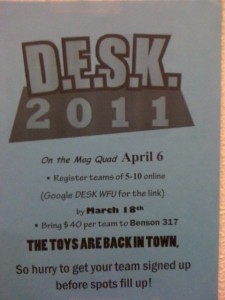 It's always fun to look at the flyers that are posted around campus and in The Pit, just to see what sorts of activities are taking place on campus this week.  This morning, I saw the following flyer for DESK.  If your students are volunteer-oriented and don't know about this project, please be sure to share this story with them.  The DESK website tells the story of the event:
"Discovering Education through Student Knowledge (DESK) is an annual community service project at Wake Forest that began in 2000. The goal of DESK is to provide desks and school supplies for children in the Winston-Salem community who are in need of a place to study and learn in their homes. Each year, teams of Wake Forest student volunteers sign up to paint desks for elementary school children, and this year 57 Old Town Elementary School children will be receiving desks. The 2011 DESK event will be held on the Magnolia Quad of the Wake Forest campus on Wednesday, April 6th from 3:00-7:00 pm."  Full details and the registration link are available online.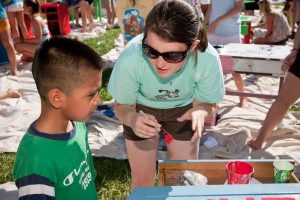 DESK is always a great, feel-good project.  It's held outdoors on the Mag Quad in spring, which typically means it will be a great, sunny day with lots of infectious laughter.  Students also seem to really dig in and enjoy an activity that involves paint and creativity.  During DESK events in years past, there are tons of smiling faces, people using their artistic imagination to paint some whimsical design and generally recreate the joy and wonder of childhood.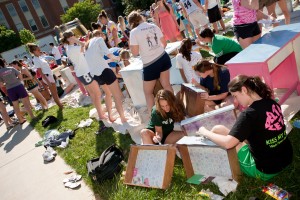 Last year, the Winst0n-Salem Journal wrote a story about the DESK project.  In addition to the joy it brings our students to create these desks for kids who need them, the recipients can be involved too – and can be exposed to a college campus, often for the first time.  This project is another great example of our students incorporating the school motto, Pro Humanitate, ("for humanity") into their lives.  Go Deacs!
Recent Posts
September 25, 2020

September 24, 2020

September 23, 2020