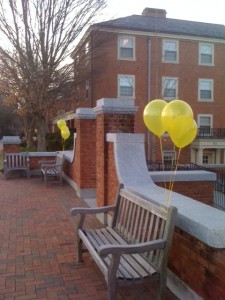 This morning when students get out of their dorms to head to the Pit or Benson for breakfast, or to go to class, they will see a campus filled with bright yellow balloons and yellow posters.  That's because this week is "Tie A Yellow Ribbon Week ," which is designed to educate the Wake Forest community about rape and sexual assault. Yellow balloons adorn the Quad, Mag Patio and Mag Quad along with yellow posters showing statistics about sexual assault.
There is a web site called Her Campus Wake Forest that posted the following schedule for Tie A Yellow Ribbon Week:
There will be a Rape Awareness Wall of statistics and facts which will be up from 11am-1pm Monday on the patio outside the Pit. 
Student leaders on campus can attend the Campus Leaders Symposium on Tuesday which aims to gather student leaders to discuss how sexual violence is handled
On Wednesday, PREPARE is showing the documentary Dream Worlds 3 in Greene Hall Room 162 at 5 PM.  This new documentary looks at the role pop culture and music videos has on the images of men and women and how the media industry infiltrates a lot of myths about sexuality.
On  Thursday will be the 19thannual PREPARE "SpeakOut" at 6 PM in Wait Chapel where you can listen to anonymous testimonials of Wake Forest students affected by this issue.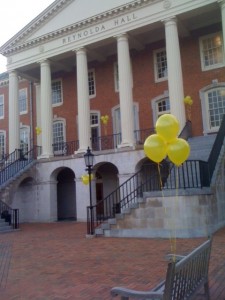 For men and women alike, Tie A Yellow Ribbon Week is an opportunity to learn more about this very serious issue and to show support.