If you are just waking up this morning, you may see the name "Wake Forest" in your local newspaper or on TV.  It's not because we won a major award or national ranking for our academics, or because of a win in NCAA athletics, or had a famous speaker on campus.  It's because our baseball coach donated one of his kidneys to an ailing player on his team.
Yes, you read that right.  One of our coaches donated his kidney to his player, presumably saving his life.  It's hard to imagine a greater act of generosity and service.  It truly is Pro Humanitate at work.
President Hatch sent an email message last night to faculty, staff and students to let them know about the surgeries for Coach Tom Walter and player Kevin Jordan.  He asked that the campus keep both men in their thoughts during their recovery. 
There are numerous articles about this remarkable story.  There is a great story running in the Boston Herald and Raleigh News and Observer and USA Today also has a fine story.  Our local paper, the Winston-Salem Journal, has coverage as well.
On a personal note, as an alumna and a long time staff member, I have never been prouder to be a Deac.  And as extraordinary as this story is – and there's no doubt about it – I want you to know that there are many, many people on this campus who are supporting your students in small ways every day.  From the faculty members who take extra time to talk to students about issues (whether academic or otherwise), to the Student Life staff who work with our students both as groups and individually to help people find their niche on campus and have a positive experience, to the RAs who check in with their residents during illnesses, family emergencies or periods of great stress, to the Campus Ministers who go see students who are hospitalized, to the academic advisers who try to provide advice and counsel.  There are more people and more offices that are also doing wonderful things on behalf of your students.  It would be impossible to list them all.
There is a common thread of goodness that runs through this campus.  It's subtle and it is quiet.  It isn't showy or flashy.  It comes from the spirit of the Old Campus in Wake Forest, NC, where the students of the 40s used to wear buttons that said "Friendliness and Honor" – and it has been lovingly preserved here as part of our animating spirit, through countless generations of staff and faculty who take time to know their students and support the campus community.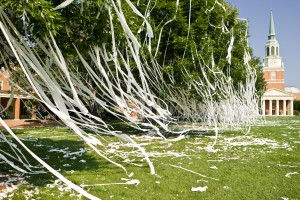 Today the world is seeing what I get to see every day, just on a grander scale.  As our late basketball coach, Skip Prosser, used to say "It's a beautiful day in the forest of Wake."
Sign the online guestbook for Coach Walter and Kevin Jordan.